Slusho!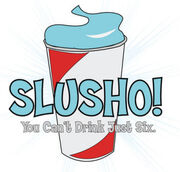 You can't drink just six!
---
---
---
Featured in
Cloverfield
Alias
Fringe
Heroes
Super 8
---
Slusho! is a soft drink manufacturer owned by Tagruato. The company is featured in Cloverfield and also appears in several other TV shows and movies.
Overview
Edit
The Slusho! drinks are classic Slush beverages with a special ingredient called "Seabed's Nectar", giving it a highly addictive quality. It is claimed by the company that the addition of the Seabed's Nectar also makes it extremely healthy.
Appearances
Edit
Alias "It Begins"
Heroes "Cautionary Tales" and "Truth or Consequences"
Cloverfield
Fringe – "The Road Not Taken" (S01E09)
Fringe – "A Better Human Being" (S04E13)
Star Trek (2009)
Super 8
Blueberry Zoom
Chocolate Rage
Mikan
Nashi
Banana Anime
Strawberry Tasty