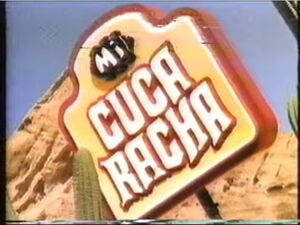 Mi Cuca Racha
is a fictional Mexican restaurant, as seen in the Energizer Bunny commercials.
In the commercial, Ted Nugent is revealed to be the restaurant's spokesman, with him and three showgirls singing the restaurant's theme song. The commercial also advertises a big deal where customers can get two tacos, two tamales, and two burritos for only 30 cents (plus tax, meat, cheese, and beans cost extra). After the showgirls sing the theme song again, Ted Nugent sings again as well, until the Energizer Bunny interrupts the commercial.
Theme Song Lyrics
Edit
Ted Nugent: We make tacos, we make nachos,
Showgirls: Everything's cheap and nothing's pricey,
Ted Nugent: We make burritos, we make tamales,
Showgirls: And they're really hot and spicy!