Let's Potato Chips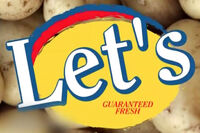 Get your damn hands off my Let's!
---
Featured in
Buffy the Vampire Slayer
1,000 Ways to Die
Nicky Ricky Dicy and Dawn
2 Broke Girls
Arrested Development
Awkward
Brooklyn Nine-Nine
Catherine
Chicago P.D.
Community
Crazy Ex-Girlfriend
Cougar Town
The Crazy Ones
Dollhouse
Everybody Hates Chris
Everybody Loves Raymond
Gilmore Girls
Grey's Anatomy
How To Get Away With Murder
It's Always Sunny in Philadelphia
The Lazarus Effect
The Middle
The Mindy Project
Miss Guided
Moonlight
My Name is Earl
The New Adventures of Old Christine
New Girl
Jane the Virgin
Orange Is The New Black
Skins
Sons of Anarchy
Switched at Birth
Teachers
Terminator: The Sarah Connor Chronicles
Touch
Trophy Wife
Ugly Betty
The Vampire Diaries
iCarly
Drake and Josh
White Collar
Workaholics
---
Let's Potato Chips is a brand of potato chip featured in TV shows such as Community, Orange Is The New Black, New Girl and several others due to the use of a prop made by Independent Studio Service
Overview
Edit
The brand is loosely based on Lay's. There are three flavors available; Natural, Bar-B-Que and Ranch. The brand also sells pretzels.
Appearances
Edit
Community – "Origins of Vampire Mythology" (S03E15) Edit
Dean Pelton brings a bag of Let's Potato Chips and a six pack of Jekyll Island Root Beer with him to Troy and Abed's apartment.
Community – "Ladders" (S06E01)Edit
Abed eats Let's Pretzels.
Community – "Basic Email Security" (S06E06) Edit
Seen in the background.
Community – "Economics of Marine Biology" (S04E07) Edit
Brita: Is there really that much money in this, Dean, or is it like that endorsement deal you made with Let's potato chips? Dean Pelton: If you don't like the crispy-licious taste of Let's, feel free to eat that other greasy brand.
Troy: *Eating a bag of Let's* Splingles? Not this guy.
Dean Pelton: Thank you, Troy young and hungry
It's Always Sunny In Philadelphia- "Old Lady House: A Situation Comedy"(S12E03)
Seen eaten by members of the gang in the back office.
It's Always Sunny In Philadelphia- "Mac Day" (S9E05)
Seen eaten by members of the gang in the observatory.
The Last Man On Earth- "M.U.B.A.R." (S4E01)
Bag of the chips ripped up and used as a tanning sheet by Pamela.
Brooklyn Nine-Nine- "AC/DC" (S2E20)
Boyle offers Peralta a bag of Let's Potato Chips.
See also
Edit
Heisler, another prop made by Independent Studio Services.
External links
Edit
Ad blocker interference detected!
Wikia is a free-to-use site that makes money from advertising. We have a modified experience for viewers using ad blockers

Wikia is not accessible if you've made further modifications. Remove the custom ad blocker rule(s) and the page will load as expected.