Big Belly Burger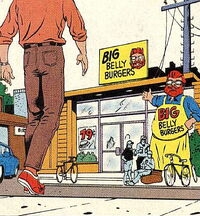 ---
Type
Fast food restaurant
---
---
Featured in
DC comics
Arrow
Batman: Arkham Origins
---
Big Belly Burger or Big Belly Burgers is a fast food restaurant chain featured in the DC comics, Arrow TV series and Batman: Arkham Origins. The chain is a subsidiary of LexCorp in the comics and a rival of O'Shaughnessy's.
Appearances
Edit
DC comics
Edit
Big Belly Burger's very first appearance was in Adventures of Superman #441 from June 1988.
Arrow – "Lone Gunmen" (S01E03) Edit
Arrow – "An Innocent Man" (S01E04) Edit
Arrow – "Darkness on the Edge of Town" (S01E22) Edit
John brought Oliver and Tommy to a Big Belly Burger restaurant after they were beat up by Max Fuller's henchmen. John later came here for a meal, and for a chat with his sister-in-law, Carly, who was a waitress there. Oliver has also taken his younger sister Thea and his mother Moira there. Thea has even taken Roy Harper to eat there.
Batman: Arkham Origins Edit
There are billboards throughout the city advertising the restaurant. There are also discarded burger wrappers and drinks in the Gotham City Police Department.
DC Universe Online
Edit
The Flash – "Pilot" (S01E01) Edit
The Flash – "Things You Can't Outrun" (S01E03) (mentioned) Edit
The Flash – "Flash vs. Arrow" (S01E08) Edit
The Flash – "Revenge of the Rogues" (S01E10) Edit
Following his training to run faster, Barry Allen ate a massive pile of burgers from the restaurant
The Flash – "The Nuclear Man" (S01E13) Edit
Ad blocker interference detected!
Wikia is a free-to-use site that makes money from advertising. We have a modified experience for viewers using ad blockers

Wikia is not accessible if you've made further modifications. Remove the custom ad blocker rule(s) and the page will load as expected.